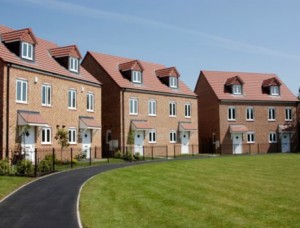 The number of house hunters surged to their highest level in more than five years in January, boosting hopes that 2013 will be a better year for the residential property market.
The National Association of Estate Agents said on average 314 would-be buyers registered with an agent in January, marking the highest number seen since September 2007. The NAEA also said the year has started strongly for first-time buyer sales. Consumers buying properties for the first time accounted for 25pc of sales, marking a two-year high.
On average, seven sales were agreed per branch in January, up from five in December, although the typical number of homes on the market decreased slightly month-on-month to 56 per branch.
Mark Hayward, President of the NAEA, said: "These latest results reflect a wider upturn in the market at the start of what we hope will be a better year for UK property.
He added: "The strong number of enquiries during January suggests the financial barriers that have plagued the market for so many years may be beginning to ease as banks increasingly look at new ways to assist buyers."
The number of mortgages on the market has increased by around one third since the Funding for Lending scheme was introduced, with lenders slashing their rates to some of their lowest ever levels since the scheme was launched.
More than 3,000 homes have also been reserved under the Government's NewBuy scheme, which was launched last spring and helps people to buy a new-build home with just a 5pc deposit.
Meanwhile, Land Registry figures released today showed that house prices jumped by 1pc month-on-month in January across England and Wales to reach £162,441 on average.
Prices increased at their fastest rate in London. On average, London homes sold for £373,207 and prices are 7.1pc above what they were a year ago.
By contrast, prices in the North West are down 4.2pc year-on-year, with houses selling on average for £106,527 each.
Mr Hayward also said: "Strong financial results from some of the country's leading house builders this week suggest a growing confidence that some form of a recovery is beginning to take shape."